High tech Sex Toy for Men Ranked
Veronica Vaughn, 3 years ago
4 min

read
253
Remember that moment you first discovered masturbation. Felt brilliant, but it wasn't long before you had a sore wrist. Had to put self-pleasure on hold, literally. There are many moments in life where we are in need of some sexual satisfaction, as men we often have to take things into our own hand. Yet, there will be other times where we just cannot be bothered. The pressures of life have us going full steam ahead from the moment we put our socks on, to the moment we hit the hay. Unfortunately, when we find ourselves in these phases, there's no time to blow off a little steam, or create some crusty socks…
A simple but often overlooked addition to sex toys is that they are USB rechargeable. Forget about mucking around with batteries. Advancements in sex toys have made them as low maintenance as possible. Simply plug the toy into any USB port to keep it ready for the optimal moment.
To give you a sense of the most hi-tech and innovative sex toys out there, here's a list of products that we think are pushing the possibilities of sex toys forward. It includes sex toys for all genders, solo and couple, so you can find something to please (or tease) just about anyone on here.
Kiiroo Onyx+ with Feel Romi Rain Experience Interactive Masturbator
Romi Rain received multiple awards across the entire width of the adult entertainment industry. This makes her the perfect storm to take you on your wet and wild interactive endeavour. Make it rain onRomi Rain.
This product includes a Romi Rain personalised box with her autograph and is fully compatible with her signature encoded content.
Kiiroo Onyx+ brings a whole new sensory experience to the internet: Intimate Touch. This lightweight male masturbator is quiet, discreet, and perfect as a travel companion.
The third-generation Onyx has a completely different rotating motor that goes in a continuous up-down motion simulating intercourse. Onyx+ can reach up to 140 strokes per minute while still maintaining a more silent motor than its predecessor, making the sensory experience of using Onyx+ all the more exciting.
Inside the Onyx+ are 10 contracting rings that work together to simulate intercourse in res-time. Enhanced by its FleshlightSuperSkin sleeve, Onyx+ will help boost your endurance and stamina. Connect your Kiiroo Onyx+ with Kiiroo Pearl2, OhMiBod Fuse, Flashlight Launch or any Bluetooth-enabled compatible device to send and receive data from those devices. In short, you can truly feel your partners touch, in real-time, from anywhere in the world.
If you would prefer a solo session, Kiiroo Onyx+ can be paired your favourite interactive content: video, Virtual Reality, 3D gaming and webcam partner sites.
Autoblow AI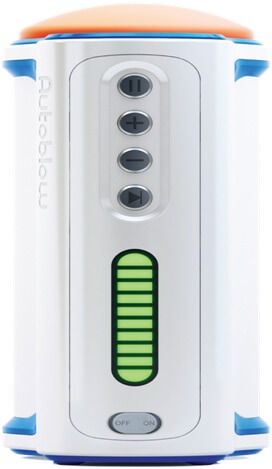 High Tech Selling Point: A smart stroker toy that replicates the feeling of oral sex
The Auto blow AI might just be a toy that was invented to fit the definition of the term "high tech sex toy." Not only does it use an internal motor to simulate oral sex — meaning, unlike most strokers, you don't actually need to move your hands or arms — the motor is hooked up to a computer programmed with 16 different blowjob patterns put together based on data from actual porn videos. Take that, Flesh light with a porn star's mouth on it! It's not battery-powered, however, so you'll have to plug it into the wall to use it, but with a long cord and the promise of an actual automated blowjob, that's a detail we're betting many guys will overlook.
Lelo F1s DEVELOPER'S KIT App Controlled Masturbator
Using powerful dual motors for hyper-real intensity, Cruise Control™ and LELO's revolutionary SenSonic™ technology, F1s Red massages you with deeply satisfying sonic waves for an entirely new experience.
You've got to hand it to LELO, they really understand the science of pleasure. They're calling this the future of sextech. You'll call it mind-blowing. (And not just the mind.)
We are proud to bring the world's first SDK-available sextech device to Australia. Believe us, you've never felt anything like this before.
Your demo app for iOS or Android uses Bluetooth® to deliver a single-handed try-out of sensations you've never experienced before. It's your turn next to experiment with the app-friendly SDK of the F1s and create the most personalised pleasure that you can imagine.
Your F1s™ includes LELO-created and trademarked Cruise Control™ and SenSonic™ technology. Did we say game changer?
A unique window panel offers extra visual stimulation. Soft to the touch on the outside, it feels totally amazing inside. Power through 120 minutes of non-stop me-time, unplugged. Cleaning up is easy with a soapy rinse under the tap.
Features:
Free app to explore 360º of pleasure
Develop your own app!
Pure patented pleasure
See what you're up to
Body-safe silicone sleeve
2 hours use on one re-charge
Waterproof
Progress your pleasure!
SexyDevil is all for advancements in male pleasure. Check out our range of new sex toys for men!