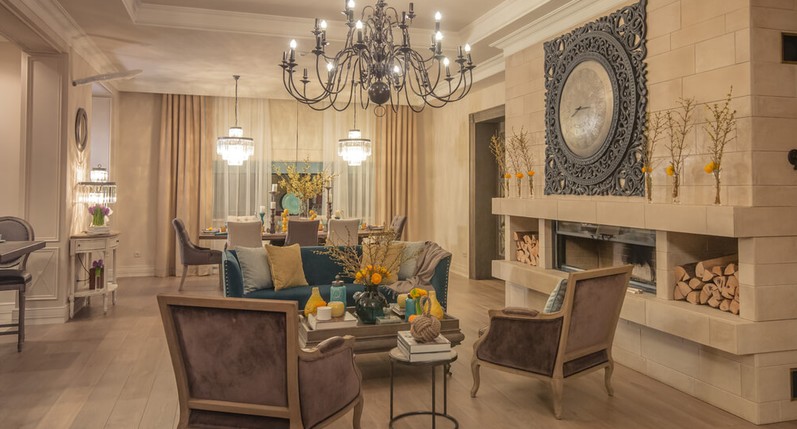 Chandeliers – the crown jewel of your interior
Veronica Vaughn, 3 years ago
4 min

read
286
What makes chandeliers such a big deal among all other light apparatuses? It's the look and the placement of it. Chandeliers are generally extravagant and placed over an important spot of the home -a spot where people would usually gather. Thus, naturally, the look and placement are such that it would attract a lot of attention. Hence, a piece in your interior that will constantly remain at the centre of attention -is bound to be a big deal.
Chandeliers traditionally, were very illustrious and grand. They were mostly put in a formal or royal setup. Mammoth multi-layered Chandeliers with many arms and extensions, hanging down from the centre of the ceiling -was the iconic appeal of chandeliers. However, times have drastically changed, and with it – chandeliers. In a world enveloped in financial crisis and scarcity of resources -extravagance is nothing short of a crime. Although, that doesn't mean we need to discard whole range of commodities altogether. Starting from necessities to luxuries -all of it has changed in shape, size and essence. Thus, the modern chandeliers are what one would call, minimal.
Modern chandeliers – A sophisticated utility
The modern K9 spiral crystal Raindrop chandelier by Saint Mossi, is a champion example of such chandeliers. Unlike traditional chandeliers, the modern K9 chandelier is made of sophisticated yet utilitarian material. This Raindrop chandelier is made from premium quality industrial grade stainless steel and ultra fine and durable crystals. This combination gives the chandelier a classy look with a humble built.
The extravagant and lustrous look of the traditional chandeliers were partly because of its dimensions. If fitted in modern homes, they would cover the entire ceiling and probably hit your head as well. Hence, in modern times when everything has gotten compact -size is a major issue. The raindrop chandelier by Saint Mossi is just 16 inches wide and 39 inches long. Fairly scaled dimensions for all modern homes.
Whilst the spending of resources have curbed, the intent to design has diversified. If we go back only 100 years, designing was mostly about keeping the product big and wrapping it up in an expensive visual appeal. But, in these 100 years designing has come a long way. So much so, that it has become an industry in itself. The current global market reaches out for products that are either visually minimal or thought intriguing. All of it whilst keeping the cost of production as low as possible. This outlook of a manufacturer is considered a novelty element by most consumers.
The Saint Mossi modern K9 spiral crystal raindrop chandelier, lives up to a designer's desire as well. Its slick design is a perfect fit among 21st century consumers. With stainless steel finish this chandelier is every bit contemporary. The crystals are the main attraction of this chandelier. They serve both aesthetic and science, simultaneously. Their clear transparent look adds soothing yet a bold essence, whilst being equally effective in refracting light to enhance the illumination. If you wish to accentuate your contemporary modern interior, this chandelier will be your best bet.
Lighting solution with maximum efficiency
Finally, let's look at the basic of any lighting fixture -its light source. Traditional chandeliers meant atrocious energy consumption. We can't say electricity is at an abundance -hence, we must turn to options that provide maximum energy optimization. LED bulbs are a champion at that. It doesn't compromise in brightness, but is almost 50 times energy efficient than its tungsten counterparts.
The Saint Mossi raindrop chandelier has 5 GU10 LED bulbs at its base. These bulbs are LED replacement of halogen spotlights. Thus, they cast directional beam of light. The beam then hits against the crystals to refract and cast a mesmerising visual appeal. GU10 LED bulbs are a wonderful inclusion to this intelligently made chandelier. Finally, a crafty designing allows the chandelier to use only 5 bulbs, to conjure a bright and vibrant illumination. With the directional beam of GU10 bulbs, this raindrop chandelier will also come handy in illuminating a specific part of your room, whilst keeping the surrounding dim.
Last but not the least, online shopping is the trend of the day. Not just because it's convenient but also economical to every market entity. The Saint Mossi raindrop chandelier is effortlessly easy to install. Thus, you can comfortably order it from e-commerce platforms like Amazon, and get it delivered at the earliest.